Haley Freedlund Assembles Crib Lizard this Sunday
Greetings, Racers!
This Sunday's presenter is trombonist and multidisciplinary artist Haley Freedlund. Haley is one of Table & Chairs' lead organizers, who you probably recognize as our weekly MC of this very session! In addition to her work as a musician and arts organizer, she works as a producer and photographer in multiple formats and venues throughout the city, keeping very busy. She wrote a blog post that is thoroughly enlightening to the ensemble, process, and material, so read below! Then make sure you come through to Cafe Racer this Sunday for the performance at 8pm.
---
"Crib Lizard started with a book that I bought from Andrew Barton at Short Run Festival in 2017. Andrew runs Two Plum Press in Portland, OR, and also worked as an early childhood educator, teaching drama to swarms of preschoolers. The book, "The Collected Plays: 2010-2015," is 110 pages of cataloged works written by his students. I was blown away by it all: for a mere $8, I got to take home a collection of plays rich in Magical Realism that was comedic, dramatic, and a beautiful object to boot. (You can buy it too, if you want, and many other books Andrew has printed.)
I knew I had to do something with the material, so with Andrew's blessing, I started reaching out to friends to collaborate with. The ensemble is perfect for the project, a team of creative humans who are giving in their collaboration and willing to say yes to the humor and nonsense that the plays call for:

Fenja Abrams - choreography/actor
Taylor Westerlund - direction/actor
Haley Freedlund - production/trombone
Simon Henneman - guitar
Mike Gebhart - drums/percussion
Bryan Lineberry - saxophone
Andrew Olmstead - synthesizer

The structure is meant to be loose and interpretive. We will all be working "on-book," referencing scripts transcribed from the book and mixed media scores made for each play. There are a lot of props involved, because it's a play and because I love prop humor. I wanted to take the opportunity to be absolutely ridiculous in this work. I think that often times, free improvisation, especially in the jazz setting that was raised in and also usually work in, things get too serious and high art. There's definitely a place for that! And I believe in beautiful, thoughtful, deep-listening music. But silly isn't bad, or low-brow, or weak in quality. It's just silly.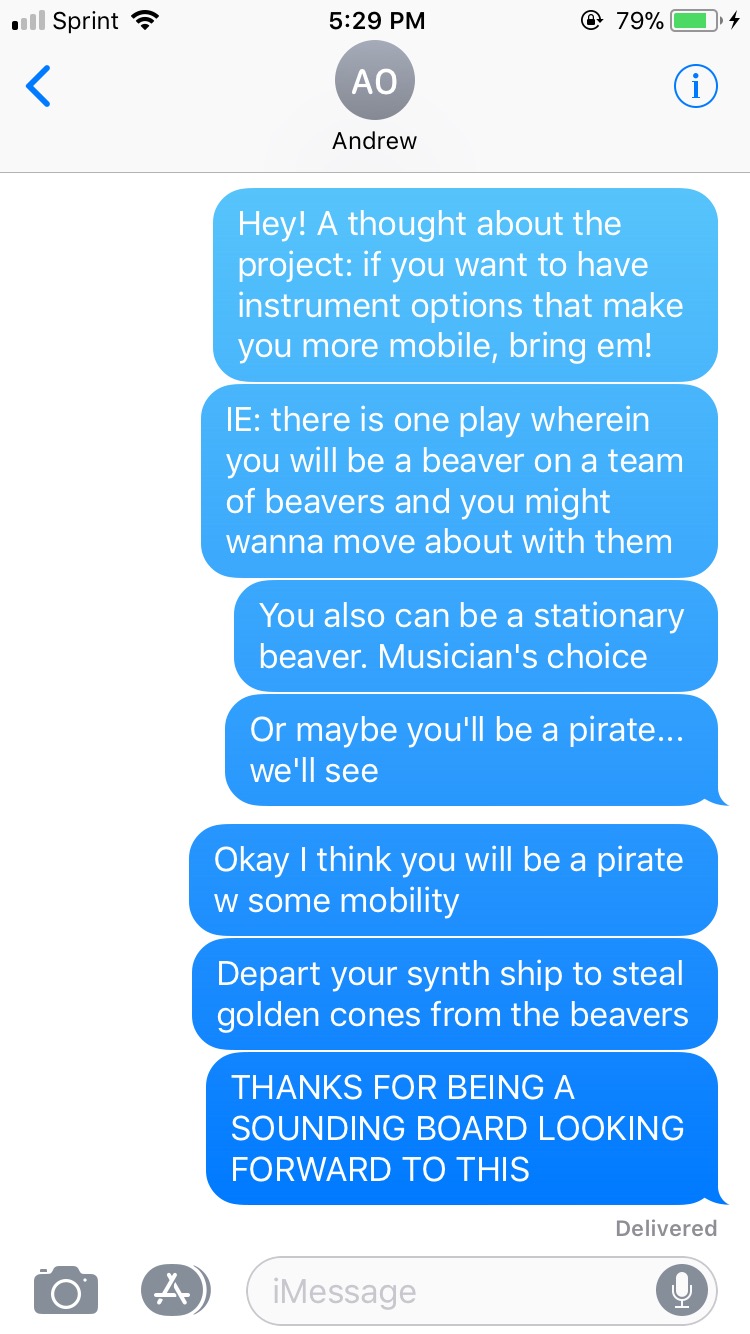 I'm perpetually thankful for the Racer community for being supportive of work like this, and of me in my day-to-day work and life. Going to the session is life-saving and life-giving. I'm thankful to you for reading this, and for anyone who comes to watch and jam. Please come out and jam with us! I'm setting an optional theme for the free improv jam afterwords, where we'll leave the book in its entirety on stage for you to use and reference in your improvisations. It'll be great."